Mini Dental Implants in Buffalo, NY
Mini dental implants are one of dentistry's exciting and innovative procedures. They are about half the size in diameter of a regular dental implant, and have many different uses. One use for mini implants is to hold a full upper or lower denture. Gone are the days when someone's dentures are loose or slipping. A series of mini implants (4-6) are placed along the gum line and the dentures can just snap right in! We can also place single implants and crowns to replace missing spaces. The small size of mini implants often means that no incision needs to be made. They can usually be inserted right through the gum into the bone. This eliminates the need for a recovery period, and the restoration can usually be placed right away or only a short time after. Mini implants are also less expensive than regular implants. Dr. Petrilli will know if mini implants are right for you, so call for your consultation today!
Benefits of Mini Implants
Preserves bone and facial structure
Cost effective
Anchoring for dentures or cemented crowns and bridges
Restored confidence with speaking and eating
Improved attractiveness of your smile
Simple, gentle, non-surgical procedure
Immediate results
Denture Retention
We can use your existing denture(s) or fabricate new ones if necessary.
Four to six implants are placed in one visit. Each implant is placed quickly and easily. Your denture is then fitted to snap on the mini dental implants. The procedure requires no extensive surgery and is ready for immediate use.
In an hour or less, you will smile, laugh, speak and eat with comfort and confidence!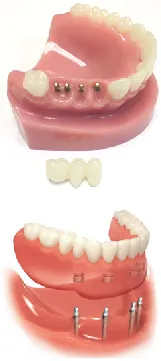 Replace Missing Teeth Quickly
Mini dental implants can be used for denture stabilization, replacing a single tooth, or a full mouth restoration. Thousands of implants have been placed with over a 95% success rate using these cost effective procedures.
The entire process consists of a consultation visit with your dentist with x-rays and impressions being taken. Then, at one treatment visit, Dr. Petrilli can place the mini dental implant(s) in your mouth, and position the final restoration(s). In about 30 minutes, a single tooth can be replaced without need to grind down healthy tooth enamel.
You can walk out ready to enjoy the foods you wish, without the long healing times and high costs associated with conventional implants. This same procedure can be used to replace multiple missing teeth usually in about an hour.


Need to replace one or more teeth? If you think dental implants may be right for you, call Comfort Dental in Buffalo, NY today at

(716) 823-3030

to learn more or schedule a consultation with our implant dentist.